The relationship between China and Europe has never been more complex.
As while closely linked as major trading and business partners, the threat of decoupling, driven by complex geopolitics and technological competition, is growing.
Yet with our many years of experience supporting Chinese companies in Europe and Western companies in China, we believe that effective positioning can help businesses foresee and mitigate risks, protect their reputations, and enable business growth.
"While political and social headwinds threaten to pull Chinese and Western companies apart, mutual economic dependency keeps them together.

Yet delivering on that opportunity in the face of growing geopolitical complexity depends on creating positive perceptions both at home and in international markets, while demonstrating the values and principles expected by corporate stakeholders.

Communications are essential in doing so; from delivering a compelling corporate narrative, to sidestepping reputational risks, and transforming your business, your story is at the heart of all that you do."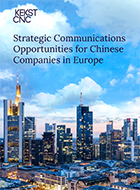 Strategic Communications Opportunities for Chinese Companies in Europe
Download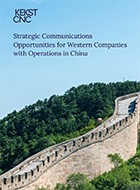 Strategic Communications Opportunities for Western Companies with Operations in China
Download