We sit down with Karyn Riegel of Leaps by Bayer shortly after the launch of its spectacular "#LeapForward – Breaking Through Impossible. Together." campaign, to discuss the impact of the investment arm of Bayer's unique approach to science communications.
Karyn's background marries media, film, digital and brand – having run a not-for-profit cinema in Brooklyn, New York before honing her digital and brand development expertise at leading global strategy agencies. She is a big believer in the power of storytelling to create a better understanding of scientific innovation and its impact on society, spurring critical discourse about the issues that matter. Karyn's work at Leaps is as an extension of that: helping to create insight into scientific innovation and its benefits for society. As Deputy Director of Brand & Community Engagement, her responsibilities are broad: spanning messaging and content creation, as well as amplifying engagement across Leaps' digital channels, at events, and through partnerships.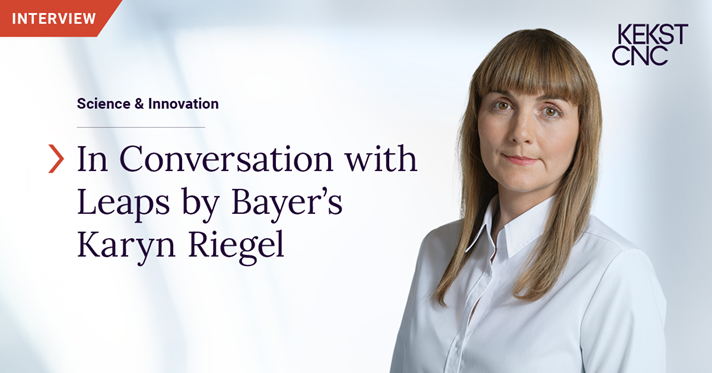 So, tell us about Leaps by Bayer and your role.
Leaps by Bayer is the impact investing arm of Bayer AG. We invest in early and growth stage health and agriculture companies, seeking solutions to the ten greatest challenges facing humanity – what we call "Leaps."
I'm part of the Brand and Community Engagement Team and there are three main pillars to our work. First, it's about articulating the vision and ambition of Leaps – from the ten "Leaps" we aim to conquer through to our investments and how we measure our impact. Second is about supporting and elevating the stories of our 55-plus portfolio companies that are on the forefront of health and agriculture. And third is the culmination of the first two pillars: contributing to the societal and ethical debates that arise from breakthrough innovation. Because ultimately, if these questions aren't addressed – and addressed properly – they become barriers, stopping the adoption of new technologies that have the potential to meaningfully change lives. This goes across the board to both health and agriculture – companies in these fields need to be part of the critical discourse that is taking place.
How do you typically work with your portfolio companies on communications?
Our investment strategy puts a primacy on impact: the early-stage funding we provide allows innovative companies to focus on the long-term delivery of their technology. And the communications approach we take mirrors that in a way.
We support our portfolio companies in scaling their communications in parallel with their business development. When Leaps creates new ventures, we support in brand building – from naming and identity development to designing websites. We also act as advisors on the engagement strategies of portfolio companies. It's an added benefit that we bring to the table as an investor, particularly at a time where early-stage businesses might not have the resources to do that alone.
What is Leaps by Bayer's approach to science and innovation communications?
We take the view that communications needs to look beyond the traditional investment audiences. Yes, engagement strategies should set a portfolio company up for the next funding round, but it's also about preparing them for the long-term journey ahead. As investment in biotech and deep tech has grown exponentially, so too has the awareness about these fields. But there is still a significant disconnect between the knowledge generated by the field and understanding within broader communities. And we need to avoid having people switch off from these important discussions because they think the science is complex, hard to digest, or too arcane.
How do you balance engagement with integrity when it comes to science and innovation communications?
Obviously, there is a need to ensure communications are rigorous and evidence based. But beyond that, we also strive to be user-centric in our communications, something that can be forgotten when it comes to technical content. The starting point shouldn't be, "What do we want to say?" It should be, "Who is going to affected by this technology? What information do they need to understand it? How can we better bring this to life? What does it practically look like in people's lives, now and in the future?"
Taking that user-centric approach one step further, it's really important to manage expectations, especially when it comes to early-stage technologies. Some investments we make may not have consumer applications for 5, 10, or 20 years. So we need to be mindful of how the information we put out will be received and interpreted by eventual "end users," like patient communities when it comes to healthtech. Early-stage technology is risky: we need to build insight and understanding, but never overpromise.
Partnerships feature strongly in Leaps by Bayer's science and innovation communications. Can you talk us through this?
Collaboration is fundamental to how we operate as an investor, and this cuts across our communications and platforms we use, too. A great example is our Leaps Talks series, where we bring together really unique voices to share their perspectives on the ethical and societal issues linked to new technologies. Working with organisations like Tech Open Air, Summit LA, and South by Southwest (SXSW), Leaps Talks have been able to reach places and audiences where biotech doesn't normally go.
The Leaps Talk on Culture and Cultured Meat that we did with SynBioBeta is one of my favorites. It's an area that is inches away from this becoming a true consumer reality, and a crucible of where popular perception is at when it comes to innovation and food. If communicators can convert curiosity into a clear and transparent value proposition, cultivated meat could have a huge impact on sustainable protein supply. There are amazing communicators in this field, so I'm optimistic that we can crack this one.  
You recently launched the #LeapForward campaign, bringing together a world record-holder in kitesurfing and a renowned weather scientist. Can you talk us through the inspiration for the campaign?
The premise of the campaign was to showcase the role that collaboration plays making breakthroughs in life sciences and the pursuit of tomorrow. Our creative agency, TLGG, had the quite brilliant idea to use the International Date Line as a metaphor to showcase leaping from today into tomorrow.
We loved this idea and really committed to it, bringing on board Olivia Jenkins, who holds a world record for kitesurfing, to cross the International Date Line between American Samoa and Samoa. And achieving this mission required collaborating with a diverse team of scientists – a nice analogy to what it takes to drive life science breakthroughs. We were really pleased to involve and partner with renowned weather scientist Dr. Alicia Ageno and her team.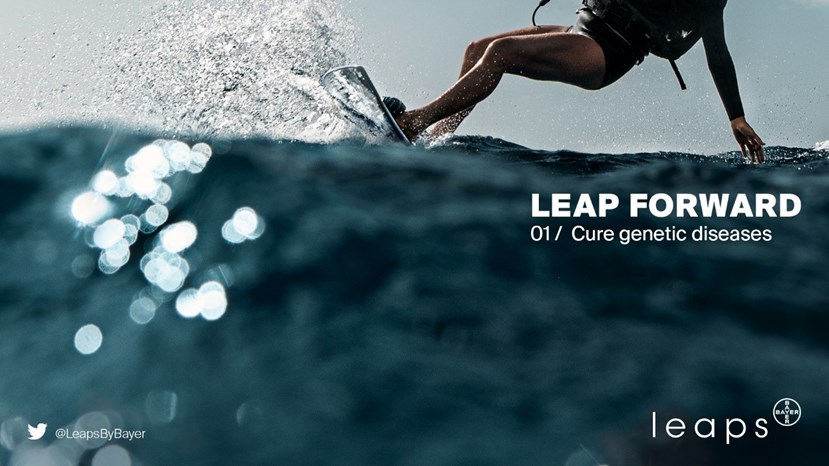 There was another layer to the making of the campaign that was poignant for me. The team identified the ideal time window for the crossing to take place and got the permissions in place. But as the time got closer, weather patterns weren't behaving as expected. It was a stark reminder of the fundamental impact that climate change is having on the weather patterns in Samoa – a small island nation at the edge of the date line and at the mercy of the sea. To encapsulate this, we engaged BBC StoryWorks Commercial Productions to produce a documentary entitled Crossing the Line. The film drives home the importance of addressing climate change for people all around the world, especially those who are living at the edge of tomorrow.
The BBC StoryWorks Commercial 'Crossing the Line' documentary is available to view here to audiences outside of the UK.