The past year has proved amongst the toughest, most unstable periods – economically and geopolitically – in the last 40 years. As central banks raised interest rates to battle surging inflation, a cost-of-living crisis emerged around the globe. Meanwhile, geopolitical tremors from the war in Ukraine continues to affect Western policy coordination, and disrupt global supply chains. Sustainability commitments made by countries and companies look unlikely to be met, as the world effectively goes into survival mode.
As governments, media and social media platforms fuel the growing polarization and politicization on key societal issues, businesses and CEOs have never been more exposed. People regard CEOs as bringing credibility and perspective to issues such as diversity, equity and inclusion (DE&I) and sustainability – meaning business leaders cannot remain silent but at the same time must make sure that everything they say is rooted in facts and delivers results, not just words.
The Kekst CNC Intelligence team conducted an analysis that reveals how executive communications teams managed whilst the world hunkered down. Thousands of posts have provided clues on how the LinkedIn algorithm works, the top priorities for CEOs, and how executive communications adapted as war in Europe continues.
Kekst CNC's latest CEO LinkedIn Tracker is the first global iteration of the research. It looks at prominent CEOs across the UK, US, Germany, and Sweden. In this third edition, we evaluated 4,494 leaders' posts on LinkedIn from 1st January 2022 – 31st December 2022.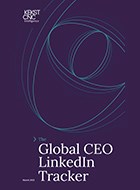 For all insights from the full Tracker:
Download
Meet the CEOs
Clear patterns from CEOs across the world revealed market-specific personas, indicating not only cultural differences in communications, but also how executive teams have maintained a pipeline of content active during challenging times.
The Social CEO (US)
The US CEO leverages LinkedIn to tell their brand story. It is defined by an executive's ability to build a distinct professional presence connecting with their corporate brand. The Social CEO is not afraid to express her or his personal sentiments or address pressing issues such as DE&I and sustainability. Simple text posts received very high engagement rates, showing the importance of the written word.
The Purpose-Driven CEO (Germany)
Determined to see change, German executives use written posts to provide leadership and put emphasis on company values. Around 91% of DAX CEOs on LinkedIn posted about sustainability and in particular on the importance of sustainable mobility. Value-driven communications has amplified corporate activities.
The Relatable CEO (UK)
The year 2022 saw 87% of UK CEOs taking a more personal approach in their posts – from one-to-one interactions with employees to sharing personal career developments. Such posts were found to have higher average engagement rate than other topics, indicating that audiences value CEOs who are willing to take a stance and immerse themselves into issues that matter.
The Talent Magnet CEO (Sweden)
Everyone wants to be a CEO in Sweden, as our analysis reveals that the reactions to CEO posts at OMX 30 companies are almost universally positive. Employees are regularly tagged in posts on office visits, team-building activities, or winning company prizes. On the other hand, however, thought leadership is rarely shared, notably on sustainability, DE&I, and innovation.
Buzzword bingo: Sustainability!
Despite COP27, 2022 was striking for the dip in engagement around sustainability, suggesting a possible fatigue around ESG messaging or else a shift in what audiences expect to hear from corporate leaders. This change may be viewed as an extension of a post-COVID world where personal and corporate priorities are often at odds.
On the other hand, it may also be the symptom of 'buzzword bingo', as CEOs have already communicated their commitment to stop climate change. Jargon often gets in the way of meaningful action, rendering a pledge to change more akin to marketing than a clear plan of action. If terms like 'energy', 'carbon', 'emissions', 'ESG' can be found on your bingo board, then you're no different than 99% of all CEOs analyzed during 2022.
'Greenwashing' is a key business risk in 2023, with regulators, media and investors all taking a closer look at what companies say and do on ESG. There's no clear and easy path forward for businesses on many ESG factors, so, the temptation is to stay quiet. But this won't wash with key stakeholders, and reputational backlash may soon follow.
How to enhance executive profiles

Data-led insights show what it takes to master the LinkedIn algorithm. We know leaders feel pressure to use their LinkedIn profile to share corporate announcements, comment on social and political events, and other business developments. Our report shows how CEOs can best act for positive engagement, what to post, and how to approach editorial planning on LinkedIn.
| | |
| --- | --- |
| Insight: Personal stories and reflections drive greater engagement, indicating that leaders need to adapt corporate announcements or messages on DE&I, and to actively include either an opinion or – at minimum – employ a human tone. | Action: Leaders using LinkedIn should define their own voice on the platform, so that they can be both an effective corporate mouthpiece, and an inspirational leader. |
| Insight: Leaders who amplify stories from their team throughout the year – beyond 'awareness days'– do better at engaging followers. The challenge for leaders regarding DE&I is how to present the multifaceted topics in an authentic, relevant and informed way. For example, our analysis shows that the single most mentioned DE&I topic was gender equality, which made up 32% of DE&I related posts across all our markets analyzed. Those leaders wanting to comment on other themes such as LGBTQ+ rights, or racial equality and inclusion will need to define an appropriate language as well as guardrails. | Action: We recommend mapping those topics the leader is passionate about, alongside what is being driven internally across the business. Tapping into internal DE&I teams will be valuable for planning and educating themselves. |
| Insight: Our analysis indicates that when leaders talk about sustainability, there is a need to link directly to business strategy and commitments. Nothing in the data indicates that personal reflections on this topic outperform posts talking directly to business efforts. That said, it's not sufficient to just repost corporate announcements. Indeed, we found 60% of the least-engaged-with posts on this subject were reposts. | Action: What works best to drive engagement is linking content directly to innovations and achievements, and where possible, calling out the people behind those innovations and project milestones. Interestingly, 80% of the most engaged with posts used relevant hashtags, while 70% of the least-engaged-with posts used none, indicating the need to do further research on tagging and adding in tags that matter. |
| Insight: Posts that use images drive the highest engagement over text-only posts. The use of visual aids will need to be planned for and adapted to ensure market, cultural and audience relevancy. The use of visuals within posts, can be further enhanced by leaning into LinkedIn features such as image carousels, with industry research indicating that posts using LinkedIn functionality are rewarded in the algorithm. | Action: In drafting posts, we recommend creating calendar templates and Rules of Engagement guidelines to help with consistency and speed of turnaround and sign off. |