The two faces of ESG backlash
Attitudes towards ESG are undergoing a sea change. Not long ago, aligning business and investment practices with sustainability was regarded as sacrosanct, with individuals, businesses and governments everywhere falling over themselves to showcase their environment, social and governance (ESG) credentials. But economic, political, social and environmental pressures have turned ESG from prize to punching bag – albeit for different reasons.
Now, global companies and leadership walk a tightrope on ESG—having to convince European stakeholders of their seriousness and ability to meet sustainability ambitions and regulation whilst communicating shareholder primacy to US politicians who take a dim view of ESG integration.
Damned if you don't…
The backlash has taken the form of increased scrutiny, with ESG proponents placing the promises made by businesses under a microscope—and finding them far short of their ESG vows and ambitions. This scrutiny and resentment has given rise to a term that's entered the lexicon: greenwashing.
Regulators on both sides of the pond have responded to greenwashing concerns with legislation such as the proposed "green claims" legislation and numerous industry greenwashing watchdogs. Businesses meanwhile are paying the price of greenwashing accusations whether they are found to be true or not—it's about perception, not reality. Moreover, greenwashing claims are damaging the credibility of the ESG label, which has a knock-on effect for businesses who are undertaking sustainability activity in good faith.
…And damned if you do
But in the US, a new fear has sprung up around ESG: being seen as doing too much. Politicians and investors are questioning business' commitment to shareholder primacy in the face of sweeping sustainability goals. Nearly every day, the media carry reports of businesses accused of de-prioritising shareholder obligations or fiduciary duties for the sake of sustainability.
Leading US asset managers that once professed to fervently pursue ESG objectives are buckling: Vanguard left the Glasgow Financial Alliance for Net Zero (GFANZ), while BlackRock reaffirmed its commitment to fossil fuel investment. Unilever, a onetime darling of sustainability activists, seems to be signalling a shift towards prioritising profit above purpose.
ESG in the US has been wrapped into a roster of politicised issues, framed as a poster child for "wokeness". State-level Republican politicians position themselves against ESG practices, with Texas, Kentucky and Florida banning pension funds from investing based on ESG factors. Meanwhile, federal and state elected officials question whether ESG-related initiatives involving competitors violate antitrust laws.
The trend presents a challenge for businesses' sustainability communications. Firms have poured enormous resources into not only building, but communicating their ESG efforts. These endeavours are not just community nice-to-haves – they are financially relevant actions required to manage a world in transition. At the end of the day, the investor impetus, regulations and real-world pressures driving ESG remain.
How business leaders are reacting
Kekst CNC took a look at how – and how much - business leaders are talking about sustainability through the Kekst CNC Global CEO LinkedIn Tracker, which assesses the LinkedIn profiles of leading CEOs across the UK, US, Germany and Sweden and their activity on the platform throughout 2022.
Here's what we found:
Sustainability remains a key topic on CEOs' comms agenda globally. While talent and personal posts increased significantly in popularity with CEOs, sustainability remains a top priority, especially in Germany where 9 in 10 DAX CEOs on LinkedIn have talked about sustainability in 2022, mostly around climate change, decarbonization, energy transition and sustainable mobility.
Audiences are engaging less with sustainability. This signals a need for a change in how CEOs communicate on sustainability. Content should be linked directly to innovations and achievements in the space. Audiences engage well with personal stories, so where possible, recognize the people behind those innovations and project milestones.
Quality wins out over quality. Content needs to show impact, accompanied by proof points, clear references and verifiability. Using impactful imagery does work in improving engagement, but assets need to be really tailored to the corporate brand. Relevant hashtags are also still a must to ensure content reaches out wider interested audiences.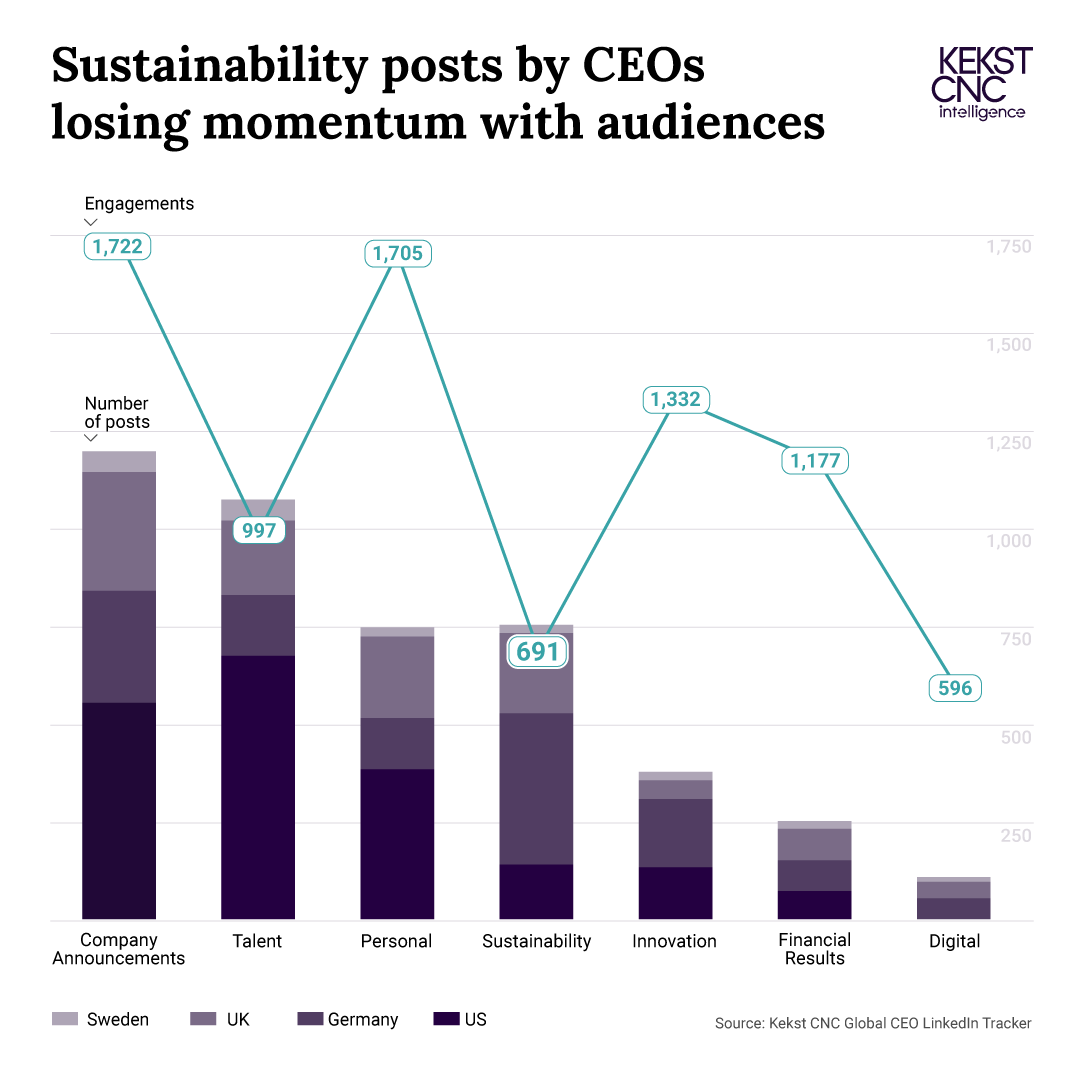 Silence around the issue of sustainability is not an option for businesses and leaders. That said, content needs to be very carefully crafted to ensure it lands well in the current environment. The reputation risks businesses face in both directions should be considered, to ensure what should be a reputational asset does not turn into a liability.