Leadership is rarely plane sailing; how you regain and maintain control in rougher waters is often what defines you as a leader.
In this edition, we're looking at control in interviews: how to get it, how to hold it, and what it looks like when you lose it.
Elon Musk vs. the BBC
Taking control in a no-holds barred interview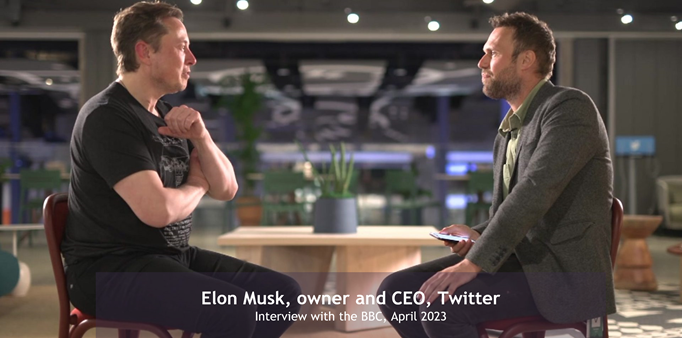 The BBC's interview with Elon Musk made headlines around the world – and many weren't flattering for the BBC. Their reporter was 'humiliated', they screamed.
Much of the 'car crash interview' narrative came from this passage in the 90min conversation, in which Musk accuses reporter James Clayton of lying.
How did Musk end up as the perceived victor? His control of the headlines started long before the cameras started rolling:
He opted to speak to tech reporter Clayton - not an established interviewer.
He insisted the interview happen with five hours' notice, limiting preparation time.
He streamed the interview live on Twitter Spaces, upping the pressure on Clayton and limiting scope for editing.
The result? Musk was in the driver's seat throughout.
With his usual clickbait quotes ("I keep telling you I'm not the CEO of Twitter, my dog is the CEO of Twitter") and promise that nothing was off topic, Musk also successfully used the opportunity to promote his own platform: more than 3 million people logged into Twitter Spaces to listen.
A takeaway for leaders: Logistics matter. How, when and where the interview takes place can be as decisive to coverage as what you say.
Can TikTok be more influential than government?
When owning your story on your channels works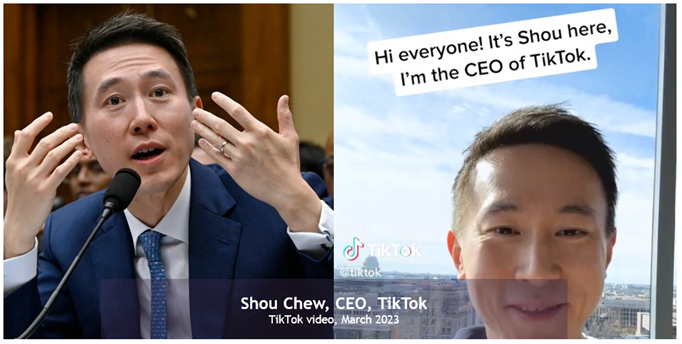 Tik Tok's CEO Shou Chew had a bruising experience when he testified before Congress last month. Lawmakers appeared to read his answers as evasive, and their questions grew increasingly hostile.
After not coming off well in the room, Chew gave himself a chance to re-run the arguments: on his own channels.
On TikTok, he articulated his case better, looking to win support from American app users by breaking down the implications of a potential US ban.
Swapping a suit for a hoodie and jeans, Chew's TikTok issued a clear rebuttal to politicians, gathered 5.5M likes, and triggered an outpouring of US user support.
Using owned channels and putting himself in front of his core customer base allowed Chew to take back some of the control he had lost in Congress.
A takeaway for leaders: Losing control does not mean it's gone forever. Finding ways to restate your message before, during and after an interview can matter as much as the moment itself.
'A bad day for Britain'
Sending a crystal-clear message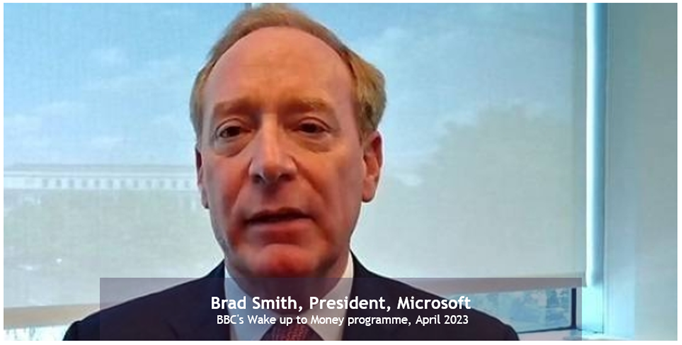 Microsoft's Brad Smith is not a man who feels the need to hide his frustration. The UK Competition and Markets Authority's decision in April to block Microsoft's takeover of gaming firm Activision Blizzard (current owners of Call of Duty and Candy Crush) should have been a disaster for the software company – it ended up shining an uncomfortable spotlight on the UK instead.
Microsoft's President hit back hard in an interview with the BBC's Wake up to Money programme. Clearly angry, Smith aimed a blow at the UK's most sensitive spot, saying the decision sent a "clear message… the European Union is a more attractive place to start a business than the United Kingdom".
Smith's outburst was a decisive act of narrative control – at a moment when the EU's competition body was still to report its own findings.
Perhaps the tech boss's fury worked – the EU's decision on the Microsoft/Activision deal arrived this week: Approved. 
A takeaway for leaders: Media operating models crave strong, provocative opinions. Provided you're prepared for backlash as well as support, it's smart to adopt the strongest position you can.
Losing control
A new CEO unprepared for the spotlight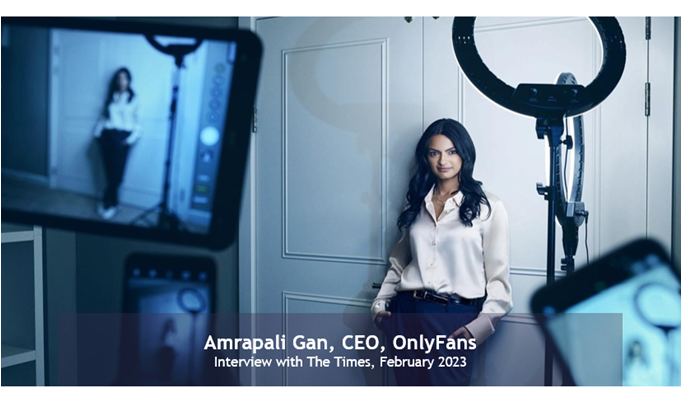 When controversial video site OnlyFans announced Gan as their new CEO, it was supposed to herald a new start for the company after a somewhat bumpy tenure under previous CEO Tim Stokely. Gan launched into her new role on a mission to "dispel misconceptions" and "set the record straight" on the platform through a series of media interviews – but was she ready?
Earlier this year, an interview with The Times went wildly out of control:
Gan's determination to portray OnlyFans as a "safe place" and "inclusive platform" fell flat when she couldn't evidence those statements with any data or facts.
When asked obvious questions regarding the safety and nature of the app, Gan evaded answering, defaulting to buzzwords and bland statements – not helping to win her interviewer over.
The interview tended to undermine both Gan as CEO and the company's legitimacy.
A takeaway for leaders: Access to large audiences comes via experienced journalists. Don't underestimate how prepared you need to be.
If you're interested in enhancing the impact you make, get in touch with the Impact Communication team: [email protected]