British public increasingly prioritising the economy over controlling COVID-19.
More than 80 per cent think that the cost of living, prices and taxes will all rise in the next three years.
Significantly decline in the popularity of the UK Government and the Prime Minister – lowest of leaders in the six markets polled.
---
London, 18 October 2021 - The 9th wave of the Kekst CNC tracker is revealed an uncertain British public that is increasingly focused on the UK's uncertain economic future. Britain has seen a jump in the proportion of the public wanting to prioritise protecting the economy over limiting the spread of the coronavirus.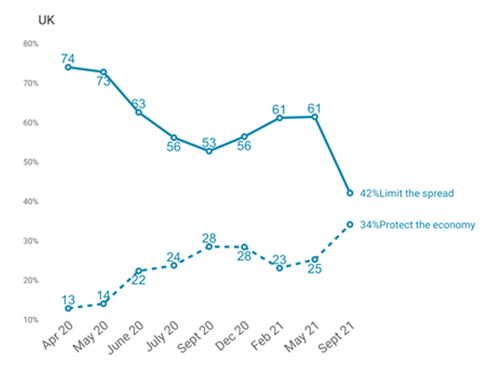 This shift comes despite high case numbers and poses a fresh challenge for business and government – the public no longer see limiting the spread as the only policy goal, and institutions will need to listen to and reflect this.
Optimism is also in short supply. More than 80 per cent of those polled in Britain think that the cost of living, prices and taxes will all rise in the next three years. And 58 per cent of the British public expect there to be another severe wave of COVID-19.
Confidence in the British Government, and the Prime Minister has also dropped sharply. Approval for Mr. Johnson stands at -18 per cent, the lowest of the leaders of the six markets polled by Kekst CNC.
While perceptions of the performance of business are also declining, key sectors such as online retail, food retail, and the pharma sector remain popular with the British public. And 45 per cent of Britons think CEOs are handling the coronavirus crisis well: to most of any of the markets polled. But attitudes to social media businesses continue to decline, with a net approval score of -16 per cent.
Commenting on the findings, James Johnson, Senior Adviser at Kekst CNC said:
"As we move closer to the winter, the British public is in a very different place to earlier in the pandemic. The combination of vaccine protection, messages from government, and an increasing cost of living squeeze means that a once niche view – that the economy should be prioritised above limiting the spread of COVID – is now becoming more prominent. 

Confidence in business is also declining – the heady days when supermarkets were as popular as the NHS are behind us – but support for key sectors remains robust. And our research shows that employees feel their CEOs have performed well during the pandemic. As we move to the next phase and into a world of potential economic hardship – not to mention environmental concerns – the public want to see leadership from business."
Other findings from this wave of the Kekst CNC tracker include:
The British public are more likely to blame the government (40 per cent) than energy companies (24 per cent) for the rise in energy prices.
Eight of ten Britons would get a coronavirus booster shot, the highest of all countries polled.
Though praised for their performance on the pandemic, CEOs are seen to be communicating less well on issues including racial diversity and the environment.
There is no desire for a return to lockdown: People were asked which restrictions they wanted to see in a set of scenarios. In a scenario where hospitals were struggling and there were significant cancellations to routine care:

Only 16% want to see non-essential shops closed
Only 16% school closures
Only 22% pubs and restaurants closed, and only 22% no social mixing
Only one in four (25%) want to see the rule of six re-introduced, and 22% want mandatory masks outdoors

Proof of vaccination for shops and bars, or nightclub closures are more popular but again do not see over majority support, with 40% and 46% backing them respectively. But Brits do back vaccine passports for large events (63%) and mandatory masks indoors (67%) in a scenario where hospitals buckle.
UK consumer confidence has dropped substantially. In May, 28% of Britons said they expected their own economic situation to improve in the next three months, with only 14% saying it would be weaker. This has now shifted, with just 21% saying they expect it to improve, and 23% saying they expect it to worsen. And in terms of the economy as a whole, in May 53% said they expected it to be stronger; now only 39% say so. Meanwhile, economic optimism in Germany, France and Sweden has increased substantially and overtaken the UK and the U.S.
Methodology and full results
Nationally representative sample of 1,000 adults in Great Britain, 1,000 adults in Sweden, 1,000 adults in Germany, 1,000 adults in United States, 1,000 adults in Japan and 1,000 adults in France.
Fieldwork took place on 28th September – 5th October 2021
Quotas and weights on gender, age, and region in each country.
Margins of error of +/- 3.3% for all countries.
Full results of the global survey available here.
About Kekst CNC
Kekst CNC is a global strategic communications firm that specializes in protecting and enhancing reputations. From 14 locations around the globe, our team of 250 professionals provides expert communications counsel, informed by judgment, insights and data-led analysis. We apply our communications expertise across high-stakes corporate, financial, and political matters, helping businesses communicate effectively through periods of disruption, transformation and growth. Kekst CNC is part of the Publicis Groupe.
Further information is available at www.kekstcnc.com
Media contact
James Johnson
+44 7826 714 286
[email protected]
Joe Shipley
+44 7780 766 857
[email protected]