Soaring inflation. Rising energy costs. Baking temperatures. Empty reservoirs. The British public is facing mounting challenges. But how will they shape new perceptions of business? What's driving these expectations? And crucially, how can communicators get ahead of them?
Over the coming months Kekst CNC will seek to answer these questions by tracking consumer priorities and shifts in public attitudes. We'll track changes across demographic lines like gender, geography, socioeconomic background and political stance, to help our clients build insight-driven communication strategies to navigate the difficult months ahead.
Climate and Cost of Living
The first edition of Priority Check examines attitudes towards climate change and the cost-of-living crisis. Will recent extreme weather conditions mark the beginning of a new phase of concern over climate change, or will the nation be too preoccupied with surging inflation?
As a baseline, we polled a nationally representative group of 1,000 adults across the UK. The survey was conducted in the weeks after the country experienced unprecedented temperatures of 40.3 degrees Celsius on 28 July. Survey results indicate seven initial findings.
Polling conducted on behalf of Kekst CNC by Find Out Now.
1. The British public is torn between tackling climate change and the cost of living, but leans towards prioritising the cost of living
46% of those surveyed believe that dealing with the climate crisis will have to wait, and that government should prioritise the cost of living. Results across socioeconomic lines reflect where the economic impact will be felt most acutely, with 64% of skilled working class agreeing the cost of living must come first compared to just 33% from upper middle class. Political lines were similarly split, with 61% of Conservative voters agreeing that dealing with climate change will have to wait, versus just 28% of Labour voters.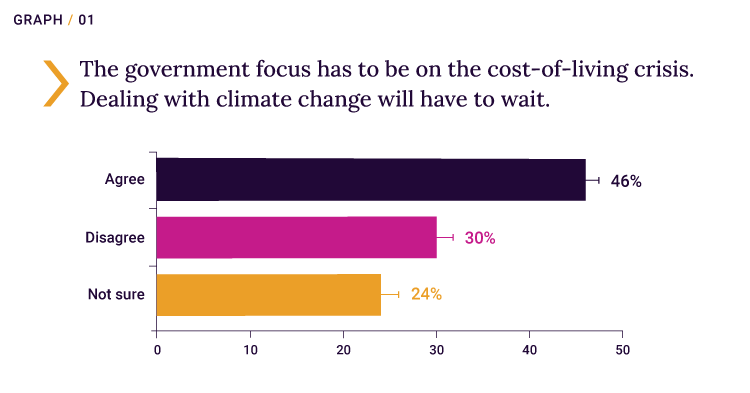 2. That doesn't mean the nation is in denial about the threat of climate change
Despite leaning towards dealing with arguably more immediate economic concerns, the majority (58%) agreed that pushing climate down the list of priorities would bring more problems in the longer term, suggesting there is an acknowledgement from the public that the challenge before us is complex.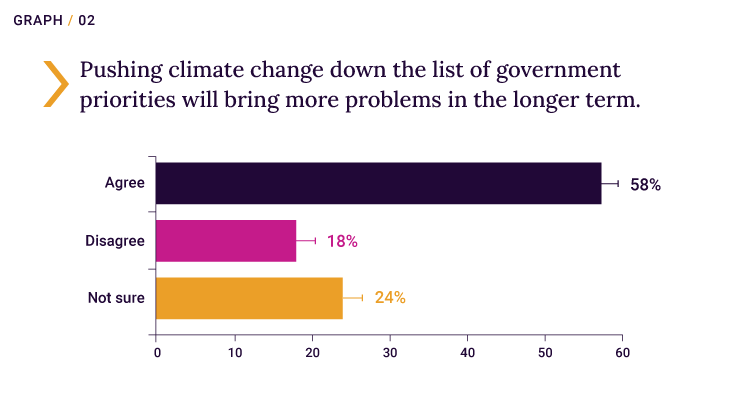 There is also consensus that climate change is behind the heatwave. A significant majority of respondents believe the extreme temperatures the nation has experienced are related to climate change. 8 in 10 people see a direct link between the two.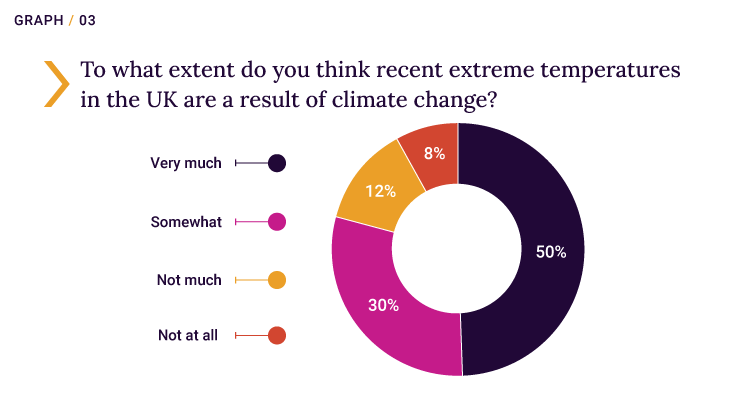 3. Extreme temperatures have raised anxieties about climate change across divisional lines
70% of respondents said recent soaring temperatures had made them more concerned about the impacts of climate change. Results across age ranges from 18 to over 65 were broadly the same, and the top three most concerned regions are East of England (76%), Scotland (76%), and London (74%).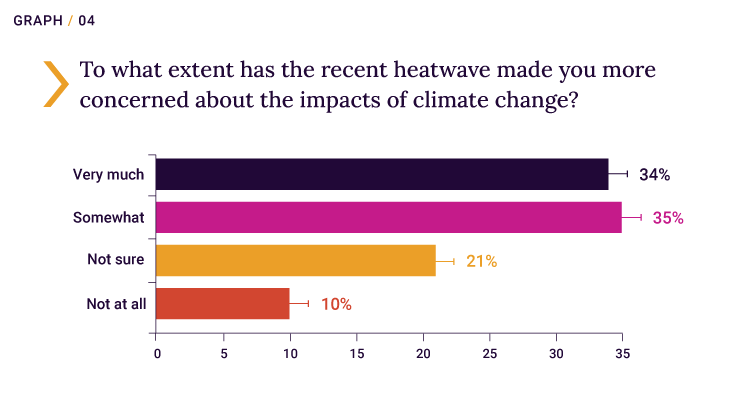 4. Views are split on taking personal action
Just over half said they were more likely to consider changing their lifestyles to reduce carbon emissions. 45% remain unconvinced that changing their behaviour is necessary. The willingness to reconsider lifestyles was much more pronounced among women than men. 64% of women surveyed said they were either very much or somewhat considering reducing carbon emissions, compared to 46% of men.  
5. Confidence in the climate credentials of big companies appears to be getting worse
In the days after COP26 was held in Glasgow in November 2021, Kekst CNC conducted research into the British public's views of the event. At the time, 6 in 10 UK consumers said that businesses were not doing enough to tackle climate change. In our most recent survey, that figure has jumped to 76%. Responses were equally negative across demographics -- even across political lines.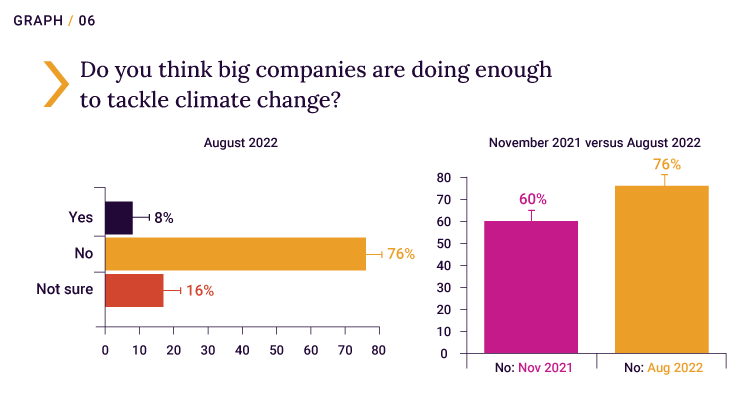 6. Little faith in current government policies, even from Conservative voters
Even before the Conservative leadership drama halted major policy decisions, the UK government's strategy on climate change had been thrown into disarray by geopolitical developments including the conflict in Ukraine. Almost two-thirds of the public do not believe the government is doing enough to tackle climate change. Even among Tory voters, only 33% believe the government is doing enough.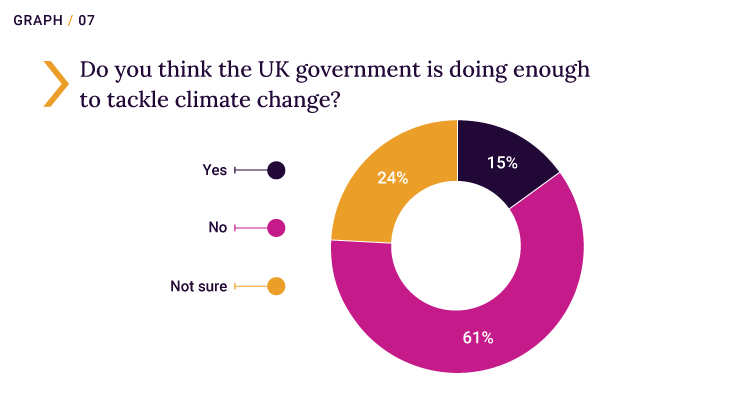 7. Neither candidate for PM has convinced the public that they care about the environment
Neither Liz Truss nor Rishi Sunak has earned the wider public's trust when it comes to stewardship of the environment. The significant majority (80%) of the British population don't have faith in either of the candidates for PM, but Truss comes out ahead of Sunak – with support from 13% of those surveyed compared to 7%.
Confidence in the contenders from Tory voters is equally low, with 69% of Tory voters saying neither cares about the environment. 1 in 5 believe Truss places more importance on the environment, compared to just 1 in 10 who have more faith in Sunak.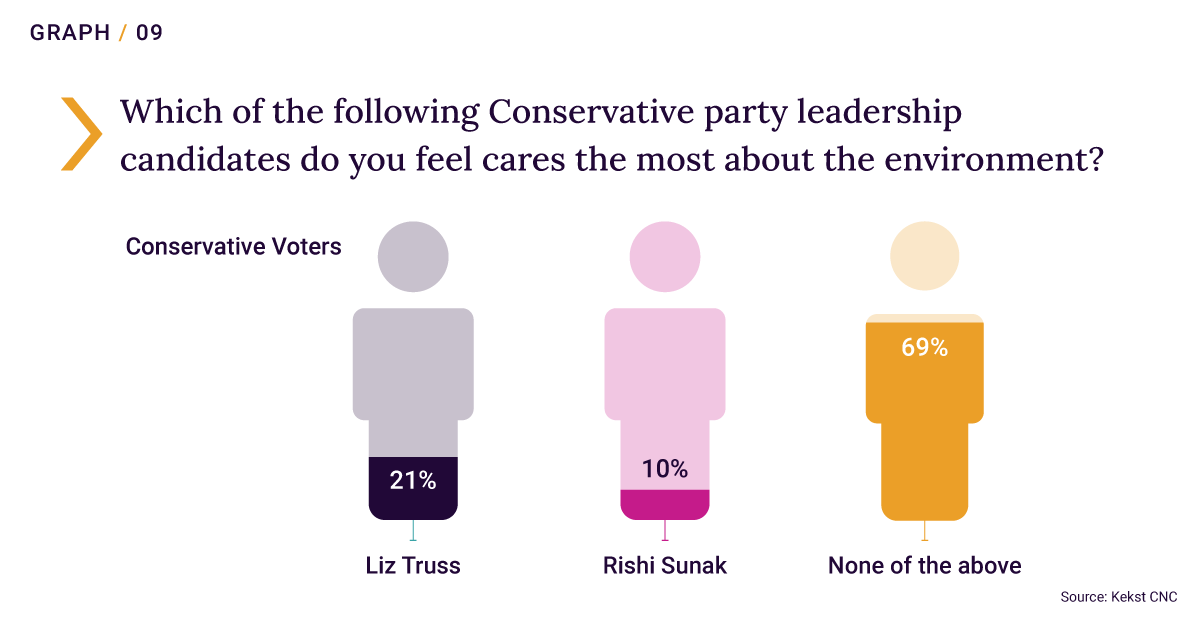 What's next?
UK consumers are grappling with a pernicious combination of interlocking problems which are set to intensify over the coming months, creating serious challenges for communications professionals.
As an example of the potential pitfalls, it would be hard to beat Tory MP Lee Anderson's recent remarks that families should consider cooking meals for 30p to manage the cost of living. His gaffe -- and the ensuing backlash -- offered a vivid lesson in how not to communicate with the public on the issue.  In the months ahead, it will be critical to properly understand the public's mood before activating any kind of comms strategy which has the potential to offend or strike an inappropriate tone.  
For consumer-focused brands that can demonstrate tangible action to support people through the crisis (like Iceland's interest-free food loans), there are plenty of opportunities to engage positively. For others, there is a significant risk that even the most mundane of LinkedIn posts could appear out of touch and trigger unforeseen and unwelcome consequences.
Over the coming months, we will be tracking the views of UK consumers in follow-up polls to gain a deeper understanding of the public mood and what it means for policy and business. As part of this, clients can expect detailed portraits of the public audience and their views towards pressing societal issues, alongside insights into how shifting attitudes will influence reputational risks and opportunities. 
Get in touch to receive the audience portrait report, available in September.