Mar 01 2021
Kekst CNC COVID Tracker Shows Increased Confidence in the Performance of Key Sectors
Increasing confidence in the performance of British business: pharmaceutical sector seen to have responded particularly well during the pandemic; food retail, online retail and consumer finance also have strong public support


Change reflects a turning tide in reputation for the UK, seen as one of best nations in world for vaccine rollout


3 in 4 Britons say the rollout is about right, the highest of all markets surveyed – while EU approval plummets in Europe


British Prime Minister, Boris Johnson now more highly approved for his pandemic response than Macron or the Swedish Prime Minister
London, 1 March 2021 - The British public continues to show confidence in the performance of a number of key sectors of the UK economy, according to the latest wave of the Kekst CNC COVID-19 tracker, a survey of public attitudes in the United States, France, the United Kingdom, Sweden, Germany, and Japan.
Commenting on the findings, James Johnson, senior adviser at Kekst CNC said:
"After a difficult 2020, the tide is turning for the UK. Three-quarters of people say the vaccine rollout is going at the right pace, the UK Government and Boris Johnson get a jump in approval ratings, and business is coming out of the pandemic with enhanced public confidence.  In contrast, people in Europe, the U.S. and Japan feel their vaccine rollouts are too slow, and are losing confidence in the pharmaceutical industry and the European Union.
"Business is working for the British public during the coronavirus crisis. Our poll has shown consistent public support for the performance of supermarkets and food retail during the pandemic. But now other sectors are catching up.
"The improved performance of the pharma sector reflects the perceived success of the vaccine rollout; leading pharma businesses are now household names. But other sectors such as online retail, and even financial services, also appear to have sustained and improving public support. While there will be challenges ahead, and people still expect business to pay more tax, the covenant between business and consumers may be at the start of the process of renewal."
Increasing confidence in the performance of British business
Positive news for the pharma sector leads the UK findings in this month's poll – driven by the pace at which the COVID-19 vaccine has been rolled out in Britain. A net 78 per cent of those polled in Britain thought pharmaceutical companies has performed 'well', increasing from a net score of 51 per cent in September.


In the EU markets surveyed, and in contrast to the UK, there has been a noticeable fall in ratings of the pharmaceutical industry since the end of 2020, reflecting the blame-game as concern about the speed of roll-out programmes has increased.


Supermarkets and the food retail sector, which has been viewed positively since the first round of the tracker in April 2020, has maintained the support of the general public – with a similar approval rating to the NHS. This finding has been supported in focus groups conducted by Kekst CNC, in which one participant said: "[Supermarkets] haven't put a foot wrong".


Confidence in online retail, which has increased consistently since July 2020, now stands at 82 per cent. And financial services businesses have maintained public support, albeit at a lower level than at the start of the crisis.
Chart 1: For each of the following organisations, please indicate how well or badly it has done in responding to the coronavirus crisis. (Net Well-Badly)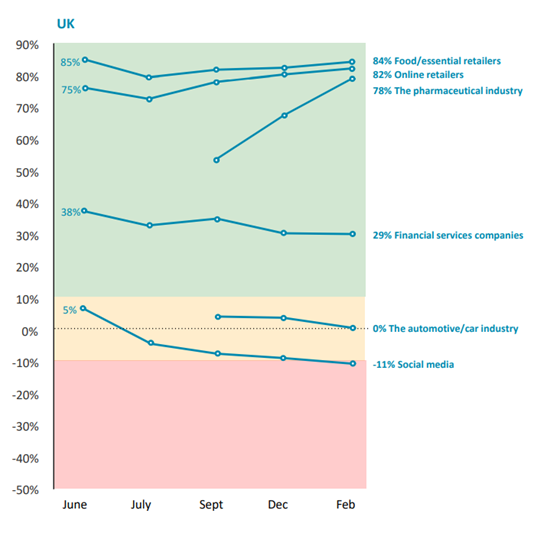 Vaccine Rollout: 3 in 4 Britons say the vaccine rollout is about right, the highest of all markets surveyed
The six-country poll has also found that the British public supports the speed of the vaccine roll-out in significant numbers: 76 per cent say that the speed is about right, with 14 per cent wanting the roll-out to be quicker.


An average 40 per cent of international respondents said the UK is doing well in its vaccine rollout, meaning the UK – alongside Israel – is seen as the most successful country in the world in rolling out the coronavirus vaccine.


Majorities in each of Sweden (65 per cent), France (60 per cent) and Germany (53 per cent) say that their own country's vaccine roll-out has been too slow with majorities in both Germany and France (both 51 per cent) feeling that their own countries have handled the vaccine roll-out badly. The equivalent proportion in Sweden is 46%.


Likely vaccine uptake in the UK is now at 89 per cent - the highest of all countries surveyed and more than 25 percentage points higher than in September. Around three-quarters of people now say they would take the vaccine in Germany and Sweden.
Chart 2: Do you feel the speed of the rollout of coronavirus vaccines in your country is…

Attitudes to British Government recover, but still in net negative territory; collapse in confidence in the performance of European Governments
The UK government and Prime Minister Boris Johnson have also seen some rebound in views of their own pandemic performance: both rising by around 12 net percentage points. But their overall performance remains negative: net -13 per cent for Boris Johnson and -11 per cent for the UK Government.


In other European markets, attitudes to politicians have worsened significantly. The EU receives widespread criticism, with confidence in its pandemic response falling from net +11 to +4 in Sweden, -2 to -10 in France and – most strikingly – from +9 to -14 in Germany.


In Germany and Sweden this is also reflected in stark falls in ratings both for the Government and political leaders. Ratings for Chancellor Merkel have dropped dramatically from an overall net positive of 54 per cent in April 2020 to 23 per cent now. In the same period the equivalent results for the German Federal Government have fallen from 45 per cent net positive to 20 per cent.


There have been similar falls in ratings in Sweden with ratings down more than 20% for the Government and PM Stefan Lofven (now net -14 per cent and net -17 per cent respectively). By way of contrast ratings for the performance of the U.S. President have improved dramatically from net 15% badly to net 15% well, a difference of 30 percentage points since the inauguration of Joe Biden.
Chart 3: For each of the following organisations, please indicate how well or badly it has done in responding to the coronavirus crisis: The European Union (Net Well-Badly)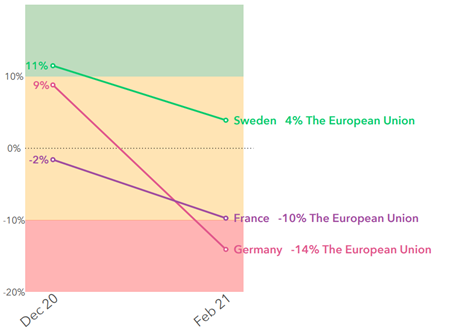 Other findings
British public remains cautious on loosening of lockdown measures
For the first time since we started these surveys in April 2020 there has been a significant fall in how long the impact of the pandemic is expected to last across all countries. In many areas – impact on the country, on business and on society, these have fallen to levels last seen in Summer 2020, reflecting vaccine optimism – though majorities still expect the effects to last for more than a year.


As the end comes into sight, it is clear that the British public remain cautious, continuing to focus on prioritising limiting the spread (61 per cent up from 56 per cent in December) rather than protecting the economy (23 per cent down from 28 per cent in December).


This caution extends to removing restrictions with only 12 per cent wanting these to be fully removed when the over 50s have been vaccinated, and only 32 per cent want restrictions to return fully to pre-COVID levels when most adults are vaccinated.
Difficult choices for the Chancellor on budget day
Increases to tax is preferred over spending cuts, when voters are asked to make the choice. Asked to choose between "The government should generally increase tax in the next few years rather than cut spending", and "The government should generally cut spending in the next few years rather than increase tax", 47 per cent chose the first statement and 39 per cent the second.


Strikingly, both Conservative and Labour 2019 voters agree: 49% of Conservatives say to increase tax rather than cut spending, with 38% saying spending cuts should be the priority. For Labour voters, 53% say to increase tax rather than cut spending, 31% to cut spending as the priority.


There is also agreement across income bands, but a difference in age: 18-44 year olds would rather spending be cut (by 47% to 38%), while over-45s prioritise tax rises (53 per cent to 32 per cent)


Business taxes are one of the areas being discussed and we asked whether, for a range of organisations, people want to see them pay more tax or less tax. Individuals with high incomes online retailers, and large companies in general are those who people most want to see pay more tax, with 61% per cent saying this of high-earners and 58 per cent of online retailers. 


Those who have suffered the most from the pandemic have a more generous view from the public – for example more than one in three want the leisure/hospitality sector to pay less tax.
Commenting on the success of the tracker project, Kekst CNC Partner Kevin Soady said:
"Kekst CNC began its global COVID tracker project to ensure that the firm's insights and advice through the crisis were based on clear evidence and a global viewpoint. For a decade, leading corporates have been told that they face a crisis of trust and offered communications strategies as a response. But this crisis has shown how trust is established through a track record of competence in its contemporary form – strategic agility, operational resilience, and close relationships with customers.
"Our polling suggests that those businesses with the clearest evidence of competent performance through a period of unique strain will be best placed to lead conversations with employees, consumers, customers, politicians and regulators."
Methodology and full results
Nationally representative sample of 1,000 adults in Great Britain, 1,000 adults in Sweden, 1,000 adults in Germany, 1,000 adults in United States, 1,000 adults in Japan and 1,000 adults in France.


UK fieldwork took place on February 17th – 21st 2021


Quotas and weights on gender, age, and region in each country.


Margins of error of +/- 3.3% for all countries.


Full data tables available on request
About Kekst CNC
Kekst CNC is a leading global strategic communications consultancy. The team of over 250 experienced professionals serve clients from 13 offices in New York, London, Munich, Berlin, Frankfurt, Paris, Brussels, Tokyo, Seoul, Hong Kong, Dubai, Abu Dhabi and Stockholm. As trusted advisors, the firm contributes its expertise on such high-stake matters as: M&A, shareholder activism and governance, crisis communications, restructurings, regulatory investigations, litigation support, investor relations, IPO communications, issues and reputation management, change management and employee engagement, as well as digital and social communications. Kekst CNC is part of the worldwide Publicis Groupe [Euronext Paris FR0000130577, CAC 40].
Further information is available at www.kekstcnc.com.
Media contact
James Johnson
M +44 7826 714 286
E [email protected]
Joe Shipley
M +44 7780 766 857