The 'new normal'. A phrase that burned out in record time, going from bright new thing to cliché before anyone had worked out what it meant. But now, a full 12 months after lockdowns put normality on hold, the future is becoming much clearer.
Across the globe, employers are planning to reopen offices. Many for the second time around. Familiar features are sure to return; commuting, ad hoc brainstorming, whiteboards, lanyards. And some less familiar ones will join them; lateral flow tests, hybrid video meetings and desk booking systems.
But something intangible will have changed about the office too. The relationship between employee and employer has evolved. Productivity, flexibility, technology, wellbeing, leadership communication. All of them are critical components of the employee-employer compact and all are areas in which new standards have been set. So, what are the new rules of engagement for a changed workforce?
The leapfrog moment
"Leadership communication's had a real leapfrog moment, and I don't want to go back", says Charlotte Eaton, Chief People Officer at OVO Energy, in the latest episode of the Kekst CNC's Global Thinking podcast series. She reflected that the past year of "humanizing leadership" has broken down barriers by showing a more authentic side to leaders. "People have really appreciated that openness and honesty. The high highs and the low lows have opened up conversations around wellbeing".
Getting those conversations right might well make business sense too. Joe Heppenstall says there's a connection between emotionally intelligent employers and staff retention. The Group Head of Talent & Resourcing at defense technology firm QinetiQ told Global Thinking "Businesses who've enhanced their ability to communicate with their employees through this difficult year are being rewarded. People are staying in companies that have put their arms around them".
The latest Kekst CNC COVID-19 Opinion Tracker data backs this up and indicates that employers would be wise to place wellbeing strategies at the center of employee value propositions from here on. The data shows that enhanced productivity and performance could be masking a mental health crisis (see below). Employees reported their mental health has worsened and, crucially, one in five said they don't feel able to have a conversation with their employer about it.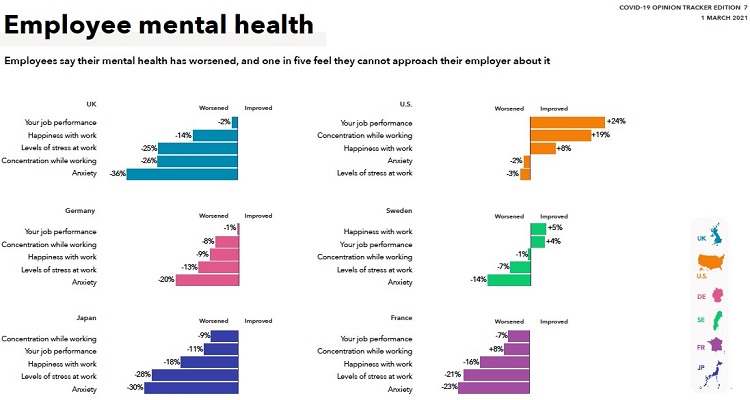 Geography + technology = greater diversity
Flexibility is here to stay. Leading businesses have promised more of it and employees have said they won't work without it (see below). The power has shifted to the employee. That means the pressure is on businesses to make sure their people feel the difference. "It's going to be a real rubber hitting the road moment when the offices do open to everybody again. A new hybrid world, with a high degree of choice and huge amount of autonomy. We want to land that really well – make it a moment that matters," says Charlotte Eaton.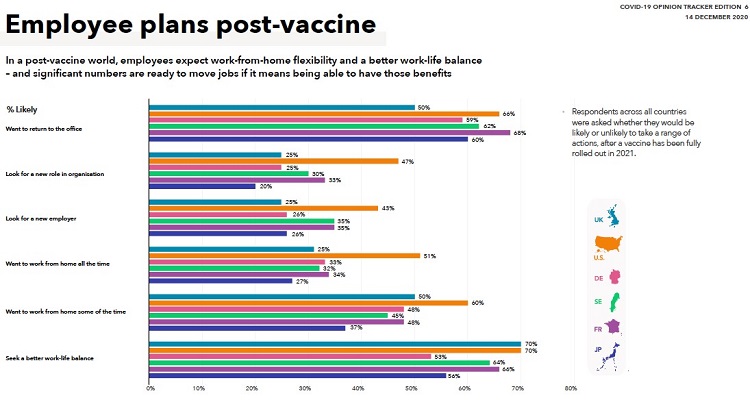 But flexibility changes the game for future employees too, especially if they live outside the biggest cities. "Roles needn't be dictated by the locations our offices happen to be in," says Joe Heppenstall. "I'm seeing a huge opportunity for hiring in a much more diverse and inclusive manner, and frankly we need it, don't we? All employers do."
We've assessed the opportunities and the cultural risks for businesses planning to welcome workers back, and distilled them into the five essential questions that leadership, comms and HR teams should be focused on, before they reopen their doors.
Our checklist includes:
Is your leadership communication consistent? At the start of the pandemic we advised our clients to Direct, Enable and Support. Consistency in communication is a predictor for resilient leadership. Senior leaders need to be communicating with a new tone, regularity and content, across a range of platforms.
Are you putting wellbeing front and center? Businesses that have put a spotlight on wellbeing resources and support have reported an uptick in retention.
Are your employees telling your story? There's been an accelerated shift from leaders to employees in terms of who drives trust in both an organisation and an employer. Our belief that the best employer brands are built by an army of advocates has never been more relevant.
Are you going the extra mile for new people? A virtual or hybrid onboarding process needs careful consideration and design. How will new joiners meet other key internal contacts? How will they absorb in-house practice? What tools will you use to communicate a clear flavor of the company culture?
Are you ready to manage hybrid teams? A meeting in which some people are together in a room and others are remote is a complex scenario to manage. Consider what additional support you can give managers to help them marshal hybrid environments to ensure everyone's voice is heard.
In lots of businesses, offices fully reopening will be a moment of joy, as colleagues return to familiar places and find familiar faces. But for leaders, spotting and responding to the subtle new challenges will be critical in building a resilient culture in the post-pandemic working world.